More map card designs.
Posted at 01:10 AM on March 4, 2014 |

No Comments »
I'm trying to use the maps of the less popular places with map cards.  These designs are my own handwritten words, cut from real maps.
Do you have any ideas for more words that would make good map cards?
---
Less Popular Places.
Posted at 01:34 AM on February 26, 2014 |

No Comments »
Last time I told you I have a growing stash of maps of less popular places (aka. places not requested for map frames).  I made a couple of frames with travel/journey/home quotes that can be made with random places that I choose or customized to be made with places the customer chooses.  Here are a few examples:
I'm trying to think of some others to make and include.  I have "Home is where the heart is" in the que.  Do you have any you'd like to see?
---
Wait, what?
Posted at 09:31 PM on February 20, 2014 |

No Comments »
Um, yeah. It's been A LONG TIME since I've updated my blog.  What happened since last time? Oh, you know, some good stuff and some bad stuff.  But let's not dwell on the past. What I really want to talk about is crafting with maps.
I made a few mosaic frames with maps right when I started getting into mosaics again in Dec 2012.  I didn't really know what I was doing with the paper under the glass, so I abandoned it for awhile.  I got a custom request for one in Dec 2013 and it turned out awesome.  I relisted them in my Etsy store and they were super popular for Christmas and Valentine's Day presents.
I had a request for text included on the frame, so now I offer that option as well.  Here's an example of one I made for a customer:
And I started offering inserts made from maps too.  Above you can see a heart cut out of a map.  I also offer initials cut from maps.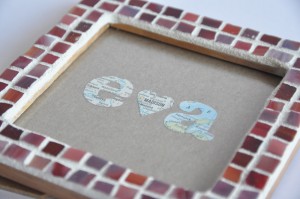 These were also very popular for Valentine's Day!
So, now Valentine's Day has come and gone, and orders for map items have slowed down.  But I've been playing with some new ideas and now I'm making cards with the maps.  I have two styles available now and have ideas for more.  The first is a simple map heart where the custom chooses the location to feature:
The second I'm calling Heart in Two Places Card – one heart made with two separate locations on a map
Now I need to find ways of using up the less popular places from my world atlases.  Sure, everyone wants San Francisco, Chicago, New York, Paris, London, Tokyo and other big cities.  But I have had very few requests for places in Idaho, South America, Russia, and Africa.  I have a few ideas and hopefully I'll be back soon to show you what they are!
---
Another year older.
Posted at 08:25 PM on May 9, 2013 |

No Comments »
Thanks to everyone who wished me a happy birthday and to those who took advantage of my birthday sale.  It was a big success!  My actual birthday was a really awesome day.  We headed up to Milwaukee to see my brother's band Jaill play Friday, May 4 – but their show started after midnight, so really the very early hours of my birthday, Sat May 5.  The band wished me a happy birthday – how fun!  After some sleep we went to a Brewers game with my parents and my brother.  That could have been better, it was a miserable 10-1 loss to the Cardinals.  But after that, we went and drowned our sorrows in tacos.  I took a nap and then went to see the Generationals with Aaron and my brother.  My brother knows the band so I didn't think anything of it when he went to the green room before they played to say hello to them.  Come to find out, he asked if they could wish me a happy birthday too! What fun! So, I took full advantage of my birthday, starting the celebrating at 12:01 and not finishing up until 11:59.  It is going to be a tough birthday to beat.
I've been crocheting some rugs and saving them until after the sale to list.  I have two of them up in my etsy store now.  I pulled a bunch of neutral toned fabrics and then let them speak to me.  Here's what the fabrics wanted to be:
---
Big Announcement!
Posted at 10:38 AM on May 1, 2013 |

No Comments »
A few days ago I posted on my Facebook page that I had an announcement to make along with this picture of Thunder's feet on a rug.  It led to some crazy speculations about what the announcement could be, with guesses including: getting a puppy, moving to a new city, getting a comic book publishing deal, and having a baby.  None of those things are happening.  I feel silly now, I didn't really think how me saying I had an announcement paired with this picture would look.  I just wanted to show off a darling picture of Thunder and generate some interest.
Needless to say, lesson learned!  Next time I'll post something more like this:
And so, finally my big announcement: Its time for my annual birthday sale!  Not nearly as big as the speculations, but a really big deal to me.  I'm another year older (and wiser), EKRA (est. May 2004) is another year older, and I like to take this time of year to say thank you to all my supporters! I have an incredible network of supporters: my husband, my family, my fellow small business owners, and of course, my customers and fans!  This was an especially difficult year for me with my arm pain and nerve damage.  I've given myself and have been presented with challenges over the last 9 years, from traveling to far away craft shows, to attending craft business conferences, to moving to a new town where supplies are limited, to altering my product line.  But the challenge of taking a step back from my work to heal was the hardest.  I'm happy to report that I'm taking care of my arm, crocheting more responsibly, and hope to be making rugs for years and years.  I'm so lucky because I really do love what I do.
Thank you for your continued support and please enjoy 36% off your entire order until 5/5/2013 with code HAPPY36 at checkout from my etsy store: www.ekra.etsy.com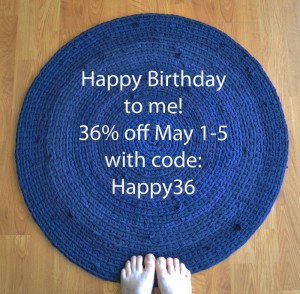 ---
How to make rugs: Cutting Fabric
Posted at 04:25 PM on April 5, 2013 |

2 Comments »
Alright, time to answer a question I get a lot, "How do you cut your fabric?"  Here we go…
These are my fabric cutting tools: a rotary cutter (45mm blade), scissors, a cutting mat (I really need to buy a new one, I have just about cut right through this one), and very important, a cutting guide.  I wish I could find another one like the one shown here, it has a guard that you can hide your hand behind which is great because rotary blades are SHARP! I tried cutting fabric without the guard once and I'll never do it again.  I cut my finger deep! So, use something that you can run the blade along and keep your hand far away!
To start, I lay out my fabric.
Then bring the bottom edge up to the top,
and then fold the new bottom edge up about halfway.  Important:  the edges of the fabric are at the top.
I like to clean up the edge of the fabric first by cutting the ragged edges off.
Now, start cutting strips.  This fabric is thin, so I'm cutting it about 2 inches wide.  Thicker fabric I cut thinner, but this is really something you need to determine for yourself – we can talk more about how wide to cut strips another time.  Cut past the fold, but not all the way to the end, leave about an inch or so intact.
Slide the guard down the fabric and cut every two inches.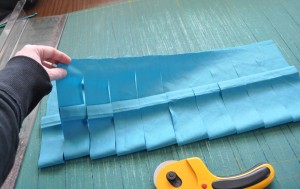 When I'm finished, I have a piece of fabric that is in ribbons across the center, but attached at both ends.  Time to cut it into one long piece.
I start at one end and cut every other intact piece with my scissors.
Now I go to the other side and cut every other  intact side over there.  Now here is where I really need to pay attention.  I want one long piece, so see how I'm holding that end of fabric yarn? I need to follow that up to the top, and not cut that space.  I can go ahead and cut the next one, and every other one after that.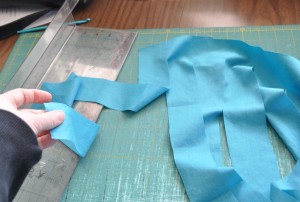 If I did it correctly, I end up with one long piece of fabric yarn.  If not, I end up with lots of loops of fabric (more on how to deal with that another time.)  I roll the fabric up around my hand to start a ball.  Trust me, this takes a little time, but you'll be so happy you have balls of fabric rather than a big tangled mess of fabric yarn later when you are trying to crochet.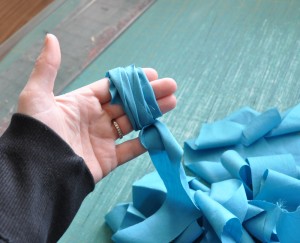 Viola!  A ball of fabric yarn!  Next, I set it aside and start cutting some more, it is going to take a lot more than that little ball to make a rug!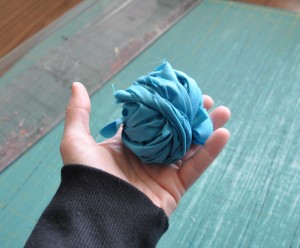 ---
Crocheting Rugs, Part 2: What fabric to use and where to find it.
Posted at 04:01 PM on March 22, 2013 |

No Comments »
Next installment of my how to crochet rugs series is ready for you to read!  I get a lot of questions about what fabric I use and where to get it.
First up, what fabric can you use?
If you can cut it and crochet it, you can use it!  I use fabric from many sources including: clothes, bed linens, curtains, and fabric remnants.  Different fabrics have different properties.  Knit fabrics like t-shirts and velour and polyester have stretch to them and will feel different on the hook than woven fabrics that don't have stretch.  Knits will not fray and will give a smoother appearance when crocheted, while woven fabrics will fray and your rug will have strings that poke out.
Try lots of different sources of fabric and see what you like to work with and what fabrics give you a look you like.
Things I use a lot: t-shirts, bed sheets, polyester double knit fabric remnants
Things I avoid: terry cloth towels (too much mess and too thick), upholstery fabric (too thick and usually white on the backside), sweaters that aren't animal fibers (will unravel if you cut them into strips), denim (too thick and tough on my hands).
Another source of fabric I use is mill ends.  These brand-new fabrics (pre-consumer) but I still consider them recycled because they are industrial waste.  Huge bolts of fabric are cut smaller by manufacturers to make bedsheets, pillow cases, etc from the new fabric.  The ends that are too small to make anything are left over and essentially waste to the factory.  There are some pros and cons to using mill ends.  Pros: you can get a lot of fabric of the exact same weight and shade which is great if you want to make a large rug all one color, or want to make several small rugs that match exactly.  Cons:  this fabric is brand new, never been worn, washed, or broken in.  Sometimes this fabric is difficult to crochet with because it is so new, it isn't soft or stretchy (if it is a woven fabric, like most I've found are) like a nice old bedsheet.  Another con is that while sometimes this fabric is cut to a perfect size where you can crochet it right off the roll, most times it is too wide and you'll need to cut it down to size.
Now that you know what fabrics to use, where can you get them?
All of my fabrics are second-hand, and I've made A LOT of rugs, so you know you don't need to buy new fabric to make rugs.
Take a look in your closet.  I bet you have some clothes that you don't wear anymore, or don't fit, or maybe have gone out of style.  My first rugs were made from clothes I didn't wear anymore.
My favorite places to shop for fabrics are thrift stores.  I'll check out the linens section.  Many thrift stores also have a craft section and sometimes you can find donated "new" fabrics, maybe someone bought some fabric from the store but never got around to doing the project they had in mind.  Or just browse around in the clothing sections looking for fabrics that catch your attention.  Here's a tip, go to the XL section in the men's.  The prices are usually the same, but you get more fabric for your money!
Yard sales can also be a good place to find fabric.  I don't usually go to them because it can be hit or miss when it comes to fabric.  A one-family sale might have one set of sheets they are selling.  But if you can find an ad for a sale that says a sewer is clearing out their stash, that's a good one to hit.  Sales organized by churches or organizations are usually much better than single-family sales.  They often have many people donating to the sale, which means more chances there will be a good selection of linens or craft fabrics.  Also, many of these sales want to raise money, and then be rid of all of the inventory at the end, so often times they'll offer a "fill a bag" sale for the last hour, so head on over and fill up some bags to bulk up your stash.
I get asked a lot about where to find the mill ends that I use.  There are a few places I have found.  One good place to find them is to do a search on ebay.  Search "rug fabric roll" and you'll find some sellers selling off their old mill ends.  You can also do a similar search on etsy.com and you might find some, but not as many as on ebay.  Another place I have found mill ends is from a fabric warehouse in Iowa.  You can see what they have to offer on their website www.inweave.com.  Click on the "fabric by the pound" on the left side.  The fabric is sold in different amounts and you'll get an assortment, which is a nice way of saying, you have no control over what you'll get.
I am diligent about washing all of the fabric that comes into my house before I fold it and put it in my stash or use it.  I highly suggest you do the same.  Fabric that have been stored in closets can have a musty smell, fabrics coming from thrift stores may not have been washed before they were donated, or they might have a musty smell as well.  I don't wash the mill ends because they are on rolls, but I'll often wash the rug right after I crochet it to start to soften up that new fabric.
Now, hit those thrift stores and yard sales and get some fabric to try out.  Next time I'll tell you how I cut fabric.
---
Crocheting Rugs, Part 1
Posted at 03:18 PM on March 15, 2013 |

2 Comments »
So, you want to crochet rugs.  Great! But let's start with the cold hard truth.  While it isn't rocket science, it does take a lot of practice, patience, practice, time, and more practice to get good.  Now, if you said, "I want to crochet rugs like EKRA does," meaning, you want your rugs to look like mine, you'll need to remember a few things. First of all, it takes a lot of practice, patience, practice, time and more patience to get to the point of crocheting and fabric cutting where you can make even stitches, which is what I get a lot of compliments on.  Second of all, rag rugs are just as unique as the people who make them.  No two are ever exactly the same, and no two people could ever make the same rug.  That is what is frustrating for some, but a wonderful opportunity for creativity and individual expression for everyone!
Here are some examples of different crochet rug makers I know and/or follow, you can see how each person has their own style to create something awesome using the same technique of crocheting with fabric.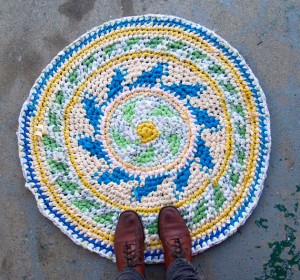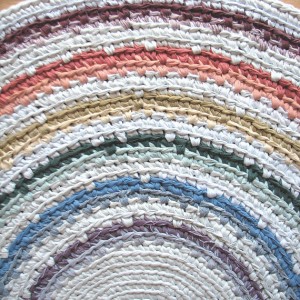 And just so you can see that this doesn't happen overnight, here is a picture of one of the first rugs I sold on etsy in 2005.
Wow, look at that horrible, blurry picture! And I would balance the color streaks throughout the rug now.  It isn't something I would make anymore, but it was one rug in a long process of development that has brought me to where I am today.
My mom taught me to crochet with yarn.  I'm self-taught as far as it comes to crocheting with fabric.  The beautiful thing about crocheting and crocheting with fabric, is there are a million ways to do it, and everyone can do what works best for them.  I'm going to share some of the things I've learned from my years of crocheting.  I guess what I'm trying to say is not that "This is the way to crochet with fabric" but rather "This is the way I crochet with fabric."
---
Playing with Plants.
Posted at 05:29 PM on March 9, 2013 |

4 Comments »
Yesterday I crocheted a tiny little basket for my air plant to live in. I posted a picture on my EKRA Facebook page and I got such a good response, I started thinking about adding them to my etsy store!
I think these little planters would be awesome party or wedding favors, little tiny hostess gifts, or just for you or anyone because they are so FREAKING CUTE!!!!
I don't know much about air plants though, so I wouldn't want to sell them (or resell them since I would just order them from someone else and pop them in my baskets).  I love succulents, though, and know how to care for them well enough that I feel I could inform others on how to care for them.  I got up this morning and made some tiny planters that could hold soil for succulents.  I poked some holes in a plastic cap from a soda bottle, put in about a teaspoon of dirt, and added one of my many itty bitty succulents.
Don't they look so happy sitting in the window? I'd love to share these with the world, but I'm not sure about shipping them.  Ship so that one could assemble on arrival?  Ship just the planter and make it "get your own plant"?  I guess I could offer several options.  I'm just so excited about my new little cutie planters!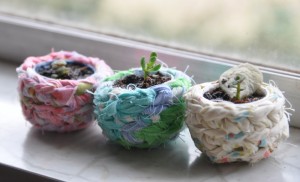 ---
Brave face.
Posted at 05:45 PM on February 26, 2013 |

9 Comments »
I'm a stubborn person.  I can be very inflexible.  And I'm pretty tough on myself, I work hard and I expect a lot from myself.  Those are things I know about myself and sort of an explanation of why I think things went down the way they did.
Once my arm started hurting so bad that I couldn't ignore it – if I'm completely honest, it started hurting a long time before I admitted it to anyone.  So, once it was so bad that I couldn't ignore it anymore, and I started getting diagnosis and treatments, I realized that I would have to change the way I did things.  Here's where the stubbornness and inflexibility comes into play.  I thought, "This is the way I make rugs and if I can't make them that way, I can't make them at all."  I mean, I think my judgment was clouded by the extreme pain I was in – I've never been in such constant pain, it really is tough on you emotionally and physically.  I couldn't bear to look at my crochet hook and fabric, just looking at it made me sad and made my arm throb.  I couldn't do more than a few stitches at a time and it was incredibly frustrating.  I cried a lot, ate a lot of sweets, cried some more, moped, and finally decided that I needed to break up with my crochet hook.  I cancelled the custom orders that I hadn't finished, and for the most part, people understood, which I'm really grateful for.  But, just like any relationship that ends, either by breaking up or moving away or death, there needs to be a period of grieving.  While I missed my crochet hook and fabric, I threw myself into mosaics to pass the time.  I put on a brave face, called it a cris-a-tunity, and worked hard.  I do enjoy making mosaics, but not nearly as much as I enjoy making rugs.  I came to realize, with the help of a friend, that I could go back to making rugs.  I mean, no one but me said I had to stop.  It was just my own inflexibility and stubbornness that was getting in the way.  I missed my fabrics so much.  I was having fun making mosaic tiles with my fabrics, but it was missing the texture that I crave.  It was time to reconcile with my crochet hook.
I cleaned off my big work table that is almost never cleared off.  It was piled high with broken bits of glass and half finished projects.  I cleared it all off.  Surprisingly, it didn't take nearly as long as I thought it would, it seemed like such an insurmountable task in my mind.  I bust out some fabric left over from other rugs, and started crocheting.  It felt so good to crochet again! I sat up straight, put a pad under my injured elbow, and stopped when my arm said stop.  Then later, when my arm felt okay, I went back.  And then stopped again.  It was working!  I was no longer sitting on the floor, hunched over, not listening to my body when it said it needed a break.
So, I'm making rugs again!  I'm not taking any custom orders for rugs though.  I don't feel strong enough to take them on, and I don't want to pressure myself to be on any kind of schedule to get things finished by.  Also, I have some incredible fabrics that I want to use that when I was only making custom work, I had to just hang on to because I never knew what people were going to want.  So, I'm going to make some seriously awesome rugs with these amazing fabrics I've been collecting.  I'm also going to continue to make mosaic frames, it will be a good way to use up my fabric scraps, and showcase my fabrics in a different way.  Also, I invested in quite a few supplies while I was "in the zone" of mosaicking.  Plus, it will be a good way to be creative while resting my crocheting muscles.
Another thing I want to do is document my rug making knowledge.  I have a bunch in my head, but writing it all down as one document like a book is just too overwhelming and I won't do it.  I'm going to post tid-bits on my blog.  They probably won't be in the best order, but once they are all up here, maybe I can rearrange them into some sort of more reasonable format.
So, that's where I'm at with all of this. I finally feel sort of back to normal.  I'm still working on listening to when my body needs to take a break from crocheting and finding other outlets for creativity and my business.  I appreciate all of you who continue to support me and my business!  And if you are one of the many people who has inquired about how to make rugs, stay tuned, because I will be slowly but surely dishing out what I've learned over the years!
---