Custom work.
Posted at 12:13 AM on October 26, 2011
Custom orders.  Sometimes fun, sometimes incredibly frustrating.  I've finished up three in the past week or so. Let's take a look!
This first one is going to a nursery in Ohio.  The customer liked a rug in my store that had a ring of color around the outer edge, but it was just a small rug.  I tried to adapt the idea to a large 5 foot rug.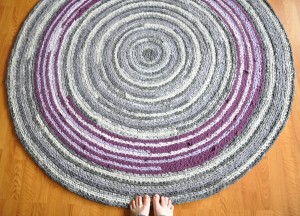 These next two are headed to the same customer in Australia.  The first one was easy – it is big, 5'3″ in diameter, but I had plenty of fabric to make it and it was just a matter of one stitch at a time.
This last one took some talking myself into.  It was a tweed-like pattern in which I crochet two strands of fabric together at the same time.  Again, it wasn't hard, but I wasn't looking forward to cutting twice as much fabric for this 3.5 ft rug.  It wasn't nearly as time consuming as I thought it would be and I really like the way it turned out – I might make this a regular offering.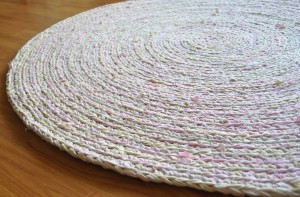 I have a lot of small rugs in my store right now, so I think I'm going to make some big rugs to have on hand for those who aren't interested in custom ordering one.  Speaking of my store, check out my Facebook page for news on a special sale that is going on now!