No wonder my arm hurts.
Posted at 06:38 PM on November 28, 2011
I've been trying not to complain about it, but I'm not very good at not complaining.  My arm hurts! My wrist hurts, my elbow hurts! I knew I was working hard, but it didn't really hit me until today, when I took photos of all my custom orders for the last couple of weeks that I realized how hard I have been working.  Just take a look at what I've made in the last couple of weeks…
This is a 5 foot rug with an applique monkey by aorta.
Made to order Cupcake Rug.  I have to stop listing "Made to Order" rugs that aren't custom rugs.  There's nothing worse than getting an e-mail notification that you got a sale (HOORAY!) only to see that it is something you haven't even made yet (OH NO!).  I love custom work, working with the customer to make a one of a kind rug that matches their home, but I don't really like making the same thing over and over.
Custom made 3′x4′ oval.  I made this for a customer who is giving it as a xmas present to their beloved.  So sweet, don't you think?
This kitty rug and the one with the maple leaf were custom made for a customer in Canada.  The maple leaf one is made to resemble the Canadian Air Force Roundel.
And finally, a work in progress….this rug is at 36″x28″ on its way to 36″x96″ (yeah, 8 feet) and it will have two starfish appliqued on top.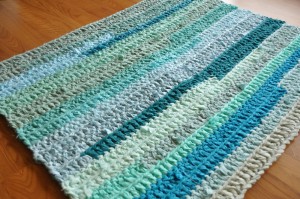 And that's it, right? No, I'm working on a 5 foot rug, and am waiting on a few other custom orders to pan out, so I bought some of those fennel microwave bags that you can use to warm up with and have been taking breaks, rolling them around on my hands and stretching my hands to keep them in shape.   More to come soon….