Crocheting Rugs, Part 1
Posted at 03:18 PM on March 15, 2013
So, you want to crochet rugs.  Great! But let's start with the cold hard truth.  While it isn't rocket science, it does take a lot of practice, patience, practice, time, and more practice to get good.  Now, if you said, "I want to crochet rugs like EKRA does," meaning, you want your rugs to look like mine, you'll need to remember a few things. First of all, it takes a lot of practice, patience, practice, time and more patience to get to the point of crocheting and fabric cutting where you can make even stitches, which is what I get a lot of compliments on.  Second of all, rag rugs are just as unique as the people who make them.  No two are ever exactly the same, and no two people could ever make the same rug.  That is what is frustrating for some, but a wonderful opportunity for creativity and individual expression for everyone!
Here are some examples of different crochet rug makers I know and/or follow, you can see how each person has their own style to create something awesome using the same technique of crocheting with fabric.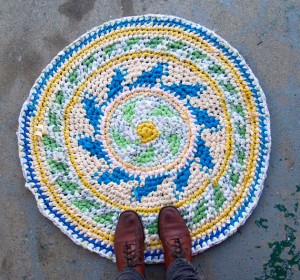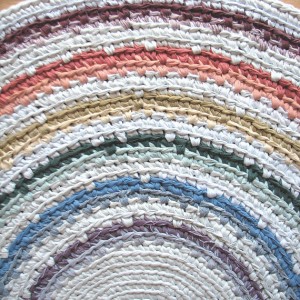 And just so you can see that this doesn't happen overnight, here is a picture of one of the first rugs I sold on etsy in 2005.
Wow, look at that horrible, blurry picture! And I would balance the color streaks throughout the rug now.  It isn't something I would make anymore, but it was one rug in a long process of development that has brought me to where I am today.
My mom taught me to crochet with yarn.  I'm self-taught as far as it comes to crocheting with fabric.  The beautiful thing about crocheting and crocheting with fabric, is there are a million ways to do it, and everyone can do what works best for them.  I'm going to share some of the things I've learned from my years of crocheting.  I guess what I'm trying to say is not that "This is the way to crochet with fabric" but rather "This is the way I crochet with fabric."