Wait, what?
Posted at 09:31 PM on February 20, 2014
Um, yeah. It's been A LONG TIME since I've updated my blog.  What happened since last time? Oh, you know, some good stuff and some bad stuff.  But let's not dwell on the past. What I really want to talk about is crafting with maps.
I made a few mosaic frames with maps right when I started getting into mosaics again in Dec 2012.  I didn't really know what I was doing with the paper under the glass, so I abandoned it for awhile.  I got a custom request for one in Dec 2013 and it turned out awesome.  I relisted them in my Etsy store and they were super popular for Christmas and Valentine's Day presents.
I had a request for text included on the frame, so now I offer that option as well.  Here's an example of one I made for a customer:
And I started offering inserts made from maps too.  Above you can see a heart cut out of a map.  I also offer initials cut from maps.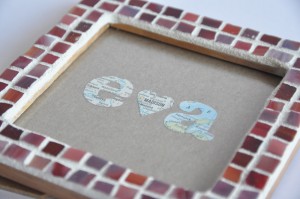 These were also very popular for Valentine's Day!
So, now Valentine's Day has come and gone, and orders for map items have slowed down.  But I've been playing with some new ideas and now I'm making cards with the maps.  I have two styles available now and have ideas for more.  The first is a simple map heart where the custom chooses the location to feature:
The second I'm calling Heart in Two Places Card – one heart made with two separate locations on a map
Now I need to find ways of using up the less popular places from my world atlases.  Sure, everyone wants San Francisco, Chicago, New York, Paris, London, Tokyo and other big cities.  But I have had very few requests for places in Idaho, South America, Russia, and Africa.  I have a few ideas and hopefully I'll be back soon to show you what they are!