Vintage Fabric Tile Mosaics
Posted at 05:58 PM on February 16, 2013 |

1 Comment »
I've been posting these on my Facebook page, but here's a little bit more about the inspiration and thought process that went into these.
When I moved to Carbondale from Madison, I stopped doing mosaics because of the lack of supplies for them (ie. thrift store plates).  When I found out about the nerve damage due to too much crocheting, I went back to mosaics, but found out again how difficult it is to find supplies down here.  I hunted online and found a china replacement service who sells their chipped china by the pound.  But, I didn't have any control over what I would get, so I didn't feel like I had that much control over what I would make.  Blah.
Back in Madison, I made a few frames where I put clear glass over playing cards to make fun tiles.  I revisited that idea, but this time I put clear glass over fabric.  I have SO MUCH FABRIC and I feel like it is a great collection of colors and designs, definitely more "me" than random chipped china I can get in the mail.  So, it worked! And I'm making lots of fun mosaic frames with these new "fabric tiles."
Also, I know a lot of people hang on to special clothes, or purchase pretty fabric without a project in mind for it, so I have a listing in my store where I'll make one of these fabric tile frames with YOUR fabric!
---
Custom Work.
Posted at 10:59 PM on February 5, 2013 |

1 Comment »
Last week I got my first custom order for a mosaic frame since I started making them again late last year.  After doing pretty much nothing but custom crocheted rugs for nearly 2 years, I was enjoying a break from custom work, enjoying the freedom to work on whatever I felt like.  But then a woman contacted me to ask me if I could make her a frame for her friend that is moving away.  She wanted a map frame that included places that were special to her friend and her.  I was so excited to make this frame for her!  It was so nice to be connected to a customer again.  I mean, it is wonderful to make something and have someone think it is a nice enough thing to buy.  But to have someone contact you to make something extra special, just for them, that will have significance for them, well, that is really really awesome.  I realized I really missed my custom work, and I'm so grateful that this customer helped me realize that.  So, I'm working on creating some designs that will be customizable.  There will be these map frames where you can choose your own locations, and I'm working on making mosaic tiles with vintage fabrics (all the fabric I bought for rugs has really been bringing me down now that I have to look at it and not be able to crochet with it).  I'm happy that I figured out something I can use it for!  And I have just about every color under the sun, so I'm going to make a few and have the option to contact me to see if I can make a color that matches your decor.  And, something I used to do I'm going to offer again, making a frame with a plate or cup of your own that you send me.  That is a really wonderful way to use a special piece of china that is maybe chipped or broken in a way where you can display it and enjoy it.  One special order I had a few years ago was to take a china platter and make 4 frames, one for each of the children of the woman whose platter it had been.  AND, I think I'm also going to offer a "send me your fabric/clothing" and I'll make a frame with it.  This would be another great way to take something that was special, but worn out, and use it again.
So, after all that, you want to see the custom map frame I made for this latest customer?  Here it is!  If you have any ideas for custom frames, I'd love to hear them!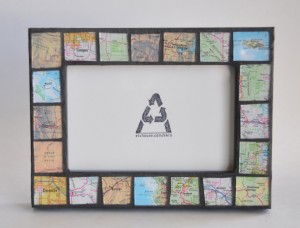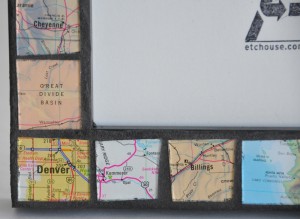 ---
Broken Glass
Posted at 06:55 PM on January 20, 2013 |

2 Comments »
I love the color blue.  Especially this shade of blue.  When I was in high school, I had a blue marble that was this shade of blue that I used to hold up and look through.  To gaze through that blue glass was so calming.  I went to a restaurant once where they had blue glasses, and don't tell anyone, but I snuck one out to have as my own (yeah, I know, that's a way around saying I stole it.) Then I started noticing that some wine came in blue bottles.  I was crocheting rugs as a hobby, and also taking some craft classes at the Craft Shop in the student union at UW-Madison, while I was avoiding working on my Environmental Toxicology PhD.  I was interested in ceramics and took a few wheel throwing classes, but once I noticed these blue glass bottles, I knew I really wanted to craft with them somehow.  I signed up for a glass fusing class, thinking I could use this recycled blue glass.  But in the first class, we learned about coefficients of expansion (COE) and glass compatibility and basically that I wasn't going to be able to do what I wanted which was use recycled glass.  Turns out they lost my registration anyways, so I never actually paid for the class, and I took my idea and went home.  Later, I signed up for a mosaic class, and I was hooked.  I was able to break my blue bottles and glue the glass on stuff! Recycling the glass and showcasing its beauty.  It was wonderful.
So, that's what led me to mosaics.  I had always loved the art form, but being able to use blue bottles sealed the deal for me.  Was there something special that lead you to your craft?
---
Words on grouting.
Posted at 07:25 PM on January 16, 2013 |

No Comments »
As I was getting ready to photograph this latest batch of frames, I realized that while these two weren't my favorite out of the bunch, they were the ones I was most proud of.  Why? Well, I'll tell you.  It has to do with the type of frame I used as a base.  The best (ie. easiest) frame to glue glass on is one that is perfectly flat.  The glass stays put while you are gluing it, and the sides have nice clean sharp edges to grout.  However, I'm greedy when it comes to supplies, and if I see a frame at a thrift store that might work, I buy it too.  These two frames had rounded edges.  So, how does that work?  Well, first of all, the glass tiles teeter around while you are trying to glue them down.  That's not that difficult to deal with.  The real issue is that the tile line doesn't line up well with the edge of the frame. You have a glass tile glued to a rounded surface.  Imagine a book on top of a ball.  So, where to grout?  That's why these are so awesome, it is all in the grouting.  For these type of frames, I fill in the space between the tile and the frame, and then extend down to where the frame is flat.  If you've never worked with grout, it is a fine powder that you add water too.  Too much water and it is too thin and runs.  Too little water and it is too thick and crumbles.  The perfect consistency is somewhere between the thickness of pancake to cornbread batter.  So, for these frames, I glop on a bunch of grout, let it settle into the spaces and wait for it to dry out a little.  Then I go back and carefully shape it so that it nice and thick and extends down to the flat edge of the frame.  Too much cleaning up and you'd see brown frame sticking out from under the tiles when you looked at it face on.  Too little cleaning up, and it would be a big chunky mess of uneven grout.  So, there you have it, some words about grouting and a little (a lot) of horn tooting!
---
Blue Nordic China
Posted at 12:08 AM on January 15, 2013 |

2 Comments »
Hi!   Last time I showed you the first 50 pounds of my 100 pound china order from the china replacement service.  I estimated that I got about 25 pounds of this blue and white pattern, so here are a bunch of blue and white frames!  I did a little bit of research on the pattern and here's what I found:  This pattern is called Blue Nordic and is manufactured by the J. and G. Meakin pottery company.  They started manufacturing inexpensive ironstone china in England in 1851, but pattern is from much later, at least 1970, as evidenced by the "Dishwasher Proof" stamp on the back.
All of these frames were made with tiles cut just from the flat centers of the plates.  There are many more to come that are mosaicked with tiles from the rims!
I've been trying to make my photos more interesting.  I've added some plants and in these photos, "before" pottery shards, which I really like!
This little frame has such a lovely shape!  It would be perfect to hold a school photo.
---
200 pounds of china.
Posted at 11:14 PM on January 5, 2013 |

2 Comments »
Right.  So, on my quest to find materials to make mosaics with, I remembered that one time I saw a china replacement store that sold their chipped china by the pound.  I couldn't remember their name except that it had a bird name in it.  I googled and googled, and finally found it again: Robbin's Nest.  They have a page on their site that says 75 cents a pound for chipped china.  Okay, I plugged in 1 pound and went to the check out page to see what the shipping would be like.  On that page it said, all orders over $150 ship for free!  Whoo-hoo! I typed in 200 pounds, sent my credit card number, and waited.  And waited.  And waited.  Ugh, for 9 days I didn't hear anything, so I e-mailed to say, "Hey, where's my chipped china?!"  The response was, "Oh, I e-mailed you, but I guess I typed it in wrong and you didn't get it.  Chipped china doesn't ship for free so I wanted to see if you wanted to pay about $100 to have this shipped to you."  Grrrr. I went back to the site and yes, on the chipped china page, it says no discounts apply to it.  The owner gave me a few shipping quotes for different amounts of china, and I went with 100 pounds instead, I'm used to paying for shipping, and the amount she quoted me sounded good.  I must admit, I took a minute to Google map it, the place is in Kentucky and I thought maybe I could drive there, but it is 4 hours away.  The shipping cost was a lot less in 8 hours of driving in time and gas and road meals.  Okay, 100 pounds ordered.  And I waited.  And waited.  And waited.  Finally, I e-mailed again to say, "Where's my chipped china?!?!" except what I really wrote was "Hi! Just checking in to see if this order has shipped yet."  I got the reply that yes, part of it had shipped and that I should get it in two days.  But, about an hour later, I got an e-mail from UPS saying my package was just accepted for delivery.  Hmmmm….  Anyways, I received the first 50 pounds of my 100 pounds that I ordered yesterday.
I had no idea was to expect.  I was expecting a box all jumbled up, and that is exactly what I got.  The first thing I had to do was separate it all out to see exactly what I had to work with.  I was thinking there would be a lot of diversity among the china, but I was wrong.  Here's what I got:
About 20 pounds of this blue and white pattern.  I was really pleased with this because there is a lot of usable material here, not a lot of white, but there is so much of it!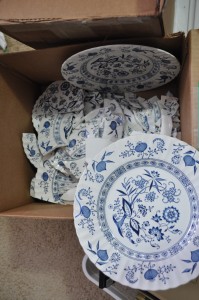 A few pounds of this pastel floral, pretty, but  a lot of white.
A handful of gold printed edges.
That was all the first box (I got two 25 pound boxes delivered).  In the second box I got quite a bit of this gray border with pink rose and gray leaf middle.
This silver lined wheat print.  Blah, a lot of white!
A couple of gold rimmed plates, that somehow survived the trip without breaking – these boxes were packed with one sheet of bubble wrap on the bottom, and one on the top, with the middle being a free for all!  There were notes all over the outside of the box to the UPS man that these boxes would rattle, there was broken china in it for mosaics, and to not return it to the sender!
And this one plate that also survived.
And I had a such a lot of good stuff in the craft room, that I had a forest friend come to the window to take a peek!
So, I know what you are going to ask me:  How many frames can you make with this?  I don't know.  Would you order from them again?  I'm not sure.  It is pretty difficult to find plates to work with here, so having supplies, even if it is a lot of one kind of pattern, is better than having no supplies!  Plus, I was working with that blue and white pattern this morning, and I already cut it so that it will make at least 4 different types of mosaic frames, even though all of them will be blue and white, they will have different visual textures to them based on what parts of the pattern I use for each mosaic.  So, overall, I'm pleased.
Oh, and remember last time I wrote about how I crocheted some and it didn't hurt and how I didn't want to jinx it? I totally jinxed it.  I haven't been able to crochet since.  I think I need to put myself on a strict schedule of maybe 5 minutes a day to rebuild and retrain my muscles.  We'll see how that goes.
---
Photobombs and photoshoots.
Posted at 11:02 PM on January 2, 2013 |

No Comments »
I grouted another batch of frames yesterday, and had them all cleaned up to take photos of them today.  I was rolling along when this happened: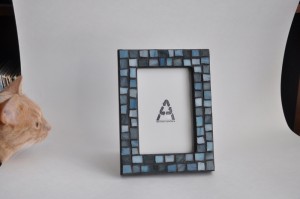 Thunder photo bombed my photoshoot!  I gave him some pets and shooed him along so I could finish up.
The frame he is checking out is one I made with stained glass scraps.  I ordered a box of 10 pounds of stained glass scraps from someone on etsy who works in a stained glass studio.  At first I was a little disappointed with the selection I got, there was a lot of whitish, tannish, brownish glass that I was pretty "meh" about.  But, I revisited it, and used it and I think what I made with it is going to turn out really cool  It is currently waiting for other frames to be glued so there is enough to do another grouting session.  But back to the frames that are finished…
And I made another one with the center graphic on these fancy dinner plates I have a ton of – although, the supply is quickly diminishing!
And, I don't want to jinx it, but I crocheted a little last night! I went slow and took breaks and it didn't hurt! Hooray! I've really missed it.  Maybe you'll see a finished rug soon.  But, I'm not going to rush it, that's how I got into this mess in the first place!
---
Real gold!
Posted at 09:17 PM on December 30, 2012 |

No Comments »
Hello! Hope you are all having a wonderful holiday season!  We were going to stay home and relax and keep everything low key, but at the last minute, we decided to take a super short trip to Grand Rapids, MI to see Aaron's extended family.  Drive up to MI Saturday (about 8 hours on the road), family party on Sunday, drive home Monday with a pit stop in Chicago to meet up with my parents for a lunch get together.  We didn't see any snow, which is weird.  But on the 26th, we woke up to about 8 inches of snow here in Carbondale, which is weirder!  I've only lived here 3 1/2 years, but I've never seen more than a dusting of snow that melted within the day.  Aaron took some pictures, so here is the proof of the heavy, wet snow that is blanketing everything.  Having lived most my life in WI, I'm used to snow, but definitely not a fan.  I'm hoping it will all melt soon.
The snow is doing a good job of making it easy to stay home and work, rather than venture out to thrift stores to see what there is to buy.  I've been working on stocking up my etsy store with mosaic frames, working on getting my frames tagged with the right key words so they show up in searches, working on ideas, working on taking better pictures.  I'm missing my crochet, and I'm not sure what to do with the massive amounts of fabric I've collected, but working on the mosaics is my top priority.  I saw this on Facebook yesterday:
"The advice I like to give young artists, or really anybody who'll listen to me, is not to wait around for inspiration. Inspiration is for amateurs; the rest of us just show up & get to work. If you wait around for the clouds to part & a bolt of lightning to strike you in the brain, you are not going to make an awful lot of work. All the best ideas come out of the process; they come out of the work itself. Things occur to you." ~ Chuck Close
It reminded me to get to work!  Sometimes I feel overwhelmed with ideas and I don't know where to start, or what will be the best course of action, but it is simple really, just start working and things will just get better and better.
So, here is some work I've finished!  Before our little trip, I found a box of 27 pieces of Cunningham and Pickett Oakdale china at the Thrift Shop.  Aren't those yellow flowers cute? I scooped it up right away, but before I broke any of the plates, I checked with Replacements, Ltd. to see if this pattern was in demand.  I'd hate to break plates that are super valuable!  Turns out, they didn't want any of them, so I felt free to get cracking (ha ha, pun intended!).  See that greek design around the edge?  That is printed with 22 karat gold!
I cut the edges off, they make tiny tiles, and it took the edge from 3 dinner plates to cover this frame.
I think it turned out really pretty.  Classy! I think it would be great for a fancy photo, like for a prom night, or a New Year's Eve celebration, or for a 50th wedding anniversary photo. Look at that shine!
Happy New Year!
---
Moving on with mosaics.
Posted at 07:00 PM on December 18, 2012 |

1 Comment »
You'd think that busting up plates would be hard on my arm, but actually, the action is more in my hands and less in my elbow.  So, I've been filling up my non-crocheting hours with mosaicking.  It is difficult to mosaic here in Carbondale because the thrift stores do not have nearly enough supplies for me.  When I first moved here, I became incredibly frustrated, and gave up on mosaics all together.  I've had to get craftier in the way I source my materials once I moved here.  So, to prep for mosaics, I bought frames instead of relying on the thrift stores.  I purchased wood frames that are made in America, so if you buy one, you are not only supporting me, but another American business as well.  Also, I've been searching for things to mosaic with.  I have been scouring etsy and ebay for people selling off stain glass scraps and plate pieces.  I have orders for both of those coming.  I also placed an order for 100 pounds of chipped china from a replacement china service.  You might have seen my Facebook post about getting 200 pounds since it qualified for free shipping.  Well, turns out I read it wrong and it doesn't.  But the woman who runs the business contacted me, and we worked out how much it would cost for the postage.  The postman is going to hate me!  But, my orders can't get here fast enough!
While I'm waiting, I've used plates and cups that I've been able to find locally.  Here are a few of my first frames:
---
Evolution.
Posted at 11:12 PM on December 14, 2012 |

3 Comments »
Around this time every year, I think about my business: what has sold well, what have I enjoyed making, what do I want to do for the next year.  At the beginning of 2012, I decided to focus my efforts on making rugs and even more specifically than that, custom rugs for people to match their decor.  It was going great, I was busy all year long, lots of orders and interest.  Unfortunately, this turned out to be a bad idea.  I was too busy, working my arm and body too hard.  In early November, I went to the doctor because my arm hurt so bad I couldn't do anything, much less crochet.  She sent me to get an x-ray, a nerve conduction test, and occupational therapy.  The x-ray showed nothing broken, but the nerve conduction test showed nerve damage.  The occupational therapy wasn't really helping and I wasn't able to crochet without a lot of pain.  The doctors and therapists suggested that I take a real break from crocheting so that my nerves could heal.  I cried and cried, cancelled my pending orders, and stopped taking custom orders.  I felt lost because I had basically just lost my job.  And I did it to myself!
Every crisis is just another opportunity, right? So, with all this time on my hands, I bought a few looms to try my hand at weaving rugs, I think this might be a way for me to make rugs in a way that is less stressful on my body.  Also, I'm revisiting making mosaics.  I left it by the wayside once we moved to Carbondale because it was really difficult to find supplies and I was not really interested in photographing them for my etsy store.  Well, in the 3.5 years we have been here, I have become better at finding other sources of second hand supplies and also have become a better photographer.  Mosaicking uses different muscles than crocheting, so I'm back to it.  I'm also working on rebuilding my crocheting muscles.  I need to go very slowly, for example, crochet 5 minutes a day for a few days, then 6, then 7, all the while taking breaks and maintaining good posture.
My year end business review came early this year, and forced me to recognize that I won't be able to make anything if I'm not healthy and taking care of myself.  I'm going to reintroduce mosaics and maybe some other things depending on what clicks.  I hope you are ready!
---