Press.
Posted at 03:11 PM on February 17, 2012 |

1 Comment »
I'm sitting here waiting for the thrift stores to open.  There has been a surge in the popularity of gray tones, I have a custom order for a 5.5′ round rug and another for a 4′x6′ oval rug both with mostly gray.  I've already bought out and used up the pounds and pounds of gray mill ends I bought.  I have been running my fabric scout ragged looking for for gray at her thrift stores.  I'm hoping to find some gray today.  Actually, I'm going to buy everything that looks remotely interesting to me today.  I made the mistake of not buying an orange and white plaid sheet at Goodwill the other day because I didn't need it immediately, and then of course, later that same day I get an order for an orange, brown, and blue rug that that sheet would be perfect for.  I worried that someone purchased that sheet for a day before I could get back to Goodwill, and thankfully it was still there.  No more fooling around!
So, yeah, I'm busy with custom orders, just the way I like it.  But the title of this post is press, so you are probably wondering what that's all about.  I was recently informed that my "Emily" Rug is going to be included in the 2012 Summer Etsy Look Book that they send out to media outlets!  They said that magazines or TV shows might request the rug so they can photograph it themselves, so I had to change the listing from "This can be your very own Emily rug" to "Contact me about getting a rug with a name on it, this is just an example"  I'm pretty excited about it and I hope it leads to more custom work!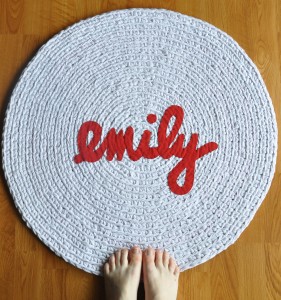 ---
'Sup?
Posted at 04:23 AM on February 14, 2012 |

No Comments »
I had a great weekend, we headed into the city to see a concert and eat fancy dinner (lobster and bacon pizza!).  And as if that weren't enough, we stopped at one of the thrift stores on the way and I bought lots of new fabric to work with.  I already have two new custom orders to keep me busy and happy, but while I was custom order-less, I made this rug.  My mom found me this queen set of sheets (the whole set: flat sheet, fitted sheet and two pillowcases).  The pattern was one I had never seen before, it was yellow and white with black polka dots striped, but also with the occasional bouquet of pink and blue flowers.  There was a lot going on, I don't know how anyone could fall asleep on such busy sheets.   I used all the fabric and crocheted it into this 28″ diameter rug.
The other big news is that I'm included in this month's Poppytalk Handmade's curated online marketplace.  You can check out what I uploaded along with lots of other great artists.  One of my favorite artists is also participating, Matte Stephens.  I love his mod style and the fact that he paints a lot of cats.  So, check out his work and the other Poppytalk artists!
---
Custom Monogram Rugs.
Posted at 04:41 AM on February 8, 2012 |

No Comments »
For the first time in weeks, I have an empty custom order board! How do I feel about that?  A little relieved, because I can spend some time getting caught up with things that have gone by the wayside.  A little anxious, because what if I've hit a dry spell?  I think this is part of the roller coaster that every small business owner rides, stressed out because there is so much work, or stressed out because there isn't enough work.  Lucky for me, I've had a lot of work to catch up on, so I haven't been able to stress out about not having any orders (mind you, I just sent out my last custom orders YESTERDAY – so you see how I really am a workaholic).  Aaron taught me some more about photography and Photoshop, so I have a few more skills under my belt to make my etsy photos work better.  Also, I have a new advertising opportunity in the works, so I'm excited about that.
My last two orders were for monogram rugs.  The first was an order for two matching rugs with different letters, one for in front of each child's sink in their newly decorated bathroom.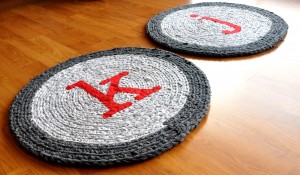 The second was for a 4 ft brown rug and the customer wanted a very subtle monogram.  So, after the rug was crocheted, I went out and found a t-shirt a shade darker than the browns used in the rug to make the J monogram.
I used my new skills (or skillz as we like to say here) on these photos.  I can really tell the difference, can you?  They are like looking at my pictures with BluBlockers on, everything is so much crisper and clearer!
---
T shirt scraps
Posted at 11:55 PM on January 30, 2012 |

No Comments »
I've said it before and I'll say it again.  Krista Lawhon of Krista's Kreations is awesome.  She takes t-shirts people have collected over the years and transforms them into beautiful memory blankets.  Not only that, she takes the left overs, boxes them up, and sends them to me!  I used them in two rugs I recently made.
First up, a Tie Dye Jumble rug.  I like to save up the tie dye t-shirts until I have enough to jumble them up and make a rug with them.  I use a navy blue sheet as a center and border to contain that jumble of color.  This is the third rug I've made like this, the first two found homes pretty quickly!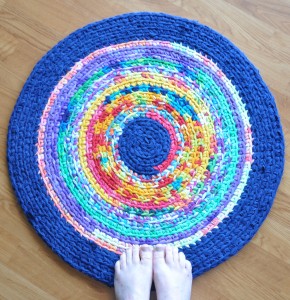 The second was a custom order for a 3 foot red rug.  I used a lot of red t-shirt scraps in the center of this rug and bedsheets for the center and outer rings.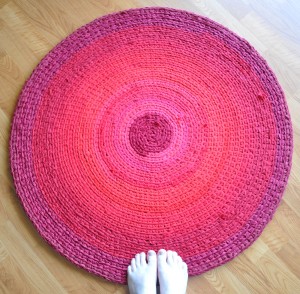 ---
A Custom Order.
Posted at 05:32 PM on January 16, 2012 |

3 Comments »
I just finished another custom order for a nursery!  This time it was a 3 foot pink and green rug.  This is the bedding that the mom chose.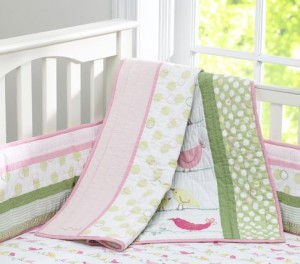 She also sent along some pictures of her nursery so far.  Using the pictures as inspiration, I went to my fabric stash and pulled out these fabrics.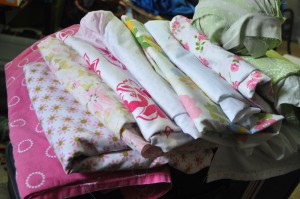 I didn't end up using all of them, but most of them, to create this rug that I hope will look very nice in the nursery!
---
Busy start!
Posted at 04:38 PM on January 14, 2012 |

No Comments »
Wow! It has been a busy end of 2011 and start of 2012!  First of all, on Christmas Eve morning, this little guy showed up in our yard.  He was cold and hungry and sick with fleas and mites and worms, but was very people friendly.  When I went outside to see him for the first time, he ran right over to me and started purring.  We brought him in to live with us and our other two cats.  I forgot how much work a kitten is! And how much work it is reminding the older cats that we still love them and to please get along with the new kid.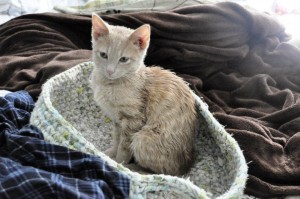 We went on our trip to Green Bay to see the Packers beat the Lions on New Years Day and spend some time visiting family and friends along the way.  The trip was great.  We got home and tried to get settled in with the kitty and the new cats and BAM! Bronchitis.  It knocked me out for a week! I was so weak I couldn't even crochet.  But I'm not very good at "calling in sick" to work, so I would sit with my crochet hook and stare at it wondering how I ever managed to make such large rugs and so quickly! Finally, my better half stepped in and suggested that maybe I would be able to work better in a few days if I just took some time to rest.  I'm on the mend and nearly ready to rock 100%.
I have had a bunch of custom orders coming in, which made being sick even more unbearable.  I just finished up this 4 foot custom monogramed rug and sent it out to MO this morning.
And, up next is a 3 foot rug that will use these pink and green and white fabrics I have pulled my from fabric stash.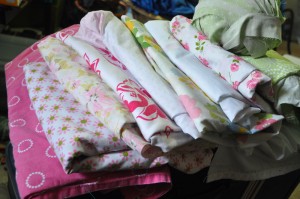 So, this year of the dragon started out feisty for sure!  Hope you all enjoyed your celebrations!
---
2011
Posted at 07:39 PM on December 28, 2011 |

No Comments »
It's nearly over! Are you ready for 2012?
2011 was a transitional year for me, I started the year with the idea that I wanted to focus more on my rugs and less on the little things I was making.  I carefully timed myself making a few rugs and raised my prices to reflect the effort that goes into them and the experience I have making them.  I'm not going to lie, I was really scared that I would never sell another rug again.  But, I did! And I sold lots and lots! And got lots of custom orders! It was wonderful, I focused on my etsy store and moved away from doing craft shows.  All in all, I think 2011 was a pretty great year and I'm glad I made the changes I did.  I'm ready for 2012, and hope to expand the designs I can offer as custom orders – you've already seen a few ie. monogram, names… If you have ideas or things you'd like to see, let me know!
I'm not a big fan of Top 10 lists.  At least, I don't like making them, so I don't have anything like, Top 10 rugs of 2011 or Top 10 mistakes I made this year.  But I have been working on things as usual and I'll show you them, just like usual.
I had a request for a rug that looked like the Finnish flag.  When I looked at the flag online, I thought, "Oh, no problem. White with a blue cross"  Turns out it was a lot more difficult than I thought it would be.  I had to have Aaron help me figure out the math – how wide should the bands be? How far over should the cross bar be? To make things more difficult, the dimensions that the customer wanted the rug didn't match up with the actual dimensions of the flag, so we had to eyeball it a little bit.  Then there was the issue of getting the cross made with one piece of fabric in the right shade of blue.  All I had was one t-shirt, and I had to do it just the right way or it would be messed up.  It was a bit frustrating to say the least.  In the end, I think it turned out pretty well.
The perfectionist in me doesn't like that the corners aren't more square and that the sides aren't perfectly straight like a real flag is, but I have to just remind myself that it is a rug that *looks like* a Finnish flag, isn't an exact replication of a Finnish flag.  Anyways, it is currently en route to its new home in Canada.
In between crocheting the white part of that flag rug and making the blue applique for it, I decided to take a break and do a little fun crocheting.  I brought out my bins of blue and green fabric leftovers and castoffs of already cut fabric yarn and decided to see what I could make from them.  I made two rugs, both available in my etsy store.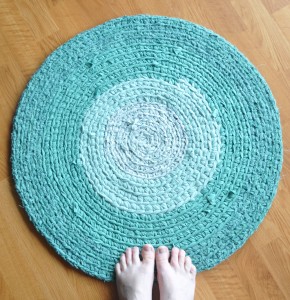 First, this Mint Burst Rug.  From the inside to outside, the fabric is from an old button down shirt, a knit bedsheet that I originally cut to make baskets, so it was super thin and I had to double it up, a polyester fabric remnant, and a blanket.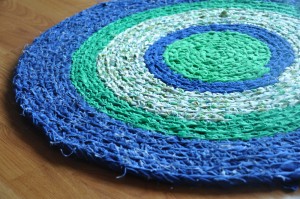 Then I made this Green Blue and White rug.  This one, from the inside out was fabric from a piece of flannel (soft!), bedsheet, and then the rest were all fabric remnants I had collected and cut for one reason or another and never were used up.  It was fun to work through some of my leftovers.
Now, I'm off for a few days to visit family and see the Green Bay Packers at Lambeau Field in Green Bay, WI.  I'm super excited! I've never been before and I have been cheering for the Packers since I was old enough to know what football was.
Have a great rest of 2011 and a safe New Year's celebration and I'll see you in 2012!
---
E and Emily
Posted at 07:34 PM on December 15, 2011 |

2 Comments »
Since I switched my focus to rug making at the beginning of this year, most of my income has come from custom made rugs.  Makes sense, people want rugs that match their decor.  Realizing that, I decided to try and make a few rugs that are examples of new designs.  I already showed you a monogram K rug, but I tried again with a typewriter font for this E rug and I'm very pleased.
And remember how I said I might try a name or word rug? I did, and since my name is Emily, I went with it.  It didn't take nearly as long as I thought it would to stitch down.  And the font? Well, that's my own handwriting.  Sort of.  I sketched out "emily" really big on a brown paper bag and made a template to trace.  So, it doesn't look like how I sign my name, but it definitely looks like my handwriting!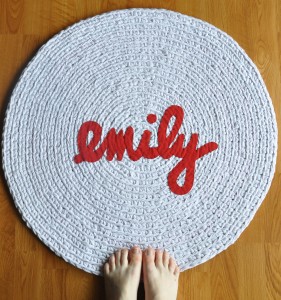 So, what do you think?  Think I'll be overrun with orders for monogram and name rugs? Or do you think names and letters aren't things people want to walk all over?  Only time will tell!
---
Stuck.
Posted at 06:58 PM on December 12, 2011 |

No Comments »
What do you do when you are stuck? Stuck in a rut, when everything seems kind of blah.  I'm there right now. I was really busy with custom orders all through November, and December has been pretty quiet.  So, I'm left with this nagging feeling that more custom orders will be coming in, so I don't really want to use any of my fabric that I want to use, because what if I need it for a custom order later??!?  So, I start a project, with fabric that doesn't really speak to me, and I just quit, because it is all sort of blah.
So, what do you do to break yourself out of the blah times?  I force myself to get some exercise and fresh air.  I just raked leaves for an hour.  Not only to I feel tired, but I remember that I can accomplish things.  After a string of abandoned projects, it is a good feeling.  Next, I've been tinkering around with new design ideas, but have been kind of disappointed with them and not feeling very productive because all the hours I've put into tinkering hasn't resulted in any product.  I have to remember to give myself permission to play and fail.  New designs are hard to design, but only continued trials will lead to something awesome.
Do you have any tricks to help yourself get out of a rut?
---
Custom K!
Posted at 07:37 PM on December 9, 2011 |

No Comments »
Not long after I posted up my monogram K rug, I got an inquiry about making a larger one.  Here it is, a 4 foot rug in brown and turquoise with a pink K.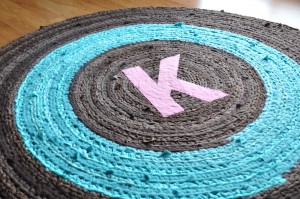 I shared this on my Facebook page and Kircher Custom Apparel from Philadelphia liked it! I wonder if that Kircher likes Ks as much as I do…
---