---
2004:09:30:22:35.
Thursday.
---
LIGHTER.
Here's part of a screenshot of cnn.com from immediately after tonight's debate: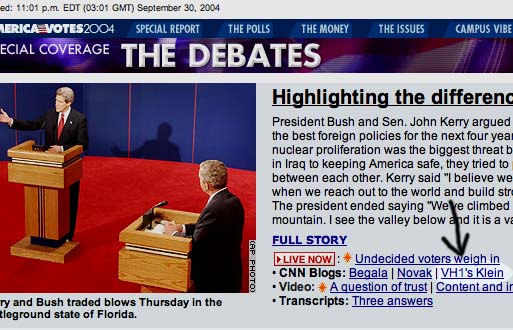 Why, you might ask, is someone from VH1 being linked next to stalwart pundits like Begala and Novak on CNN's front page in the immediate aftermath of one of the campaign's biggest events? I don't fucking have a clue. The link goes to the blog of one Jessi Klein, which contains this editor's note:
VH1 Best Week Ever's Jessi Klein is providing a lighter take on the debate this evening through this CNN.com blog. Follow along as she shares her observations and insight into the political process tonight.
Klein, for her part, says this, among other things:
Overall, I think Kerry had the edge over Bush in this debate. He didn't seem too flip-floppy, he was clear and concise, and his haircut was pretty decent.
Bush, on the other hand, seemed pretty baffled for a lot of it, and there were some moments when he paused for so long before speaking that I thought I was going to have a nervous breakdown.
Watching Bush talk always gives me that feeling like when you're watching an alcoholic uncle give a toast at a wedding - you're just kind of hoping he'll get through it without messing up too bad, but he inevitably does.
None of this takes away from the fact that I still can't picture John Kerry and Teresa actually kissing.

Fuck you, CNN. Fuck you, VH1, for not getting Viacom to step in and stop this inter-corporate madness. Fuck you, news-consuming public for going back over and over to the same poisoned troughs. And fuck you, Jessi Klein, for this:
The most important thing is, please remember to vote, and for Pete's sake, if you're one of those undecided voters, would you please get over yourself and make a choice already? It can't be that hard.
Your feigned impartiality sickens me, and is enabling these undecided morons to remain the focus of the able-minded among us. Get bent.
posted by Aaron S. Veenstra
Politics ... TV ... Permalink ... Comments (12)